With the current state of events, we thought it would be important to highlight some black-owned skincare brands that we love, here at Simply Clinics. These skincare brands will not only enhance your skincare routine but also help contribute to these incredibly important times and with today's current climate.
There are a variety of black-owned skincare brands that offer multiple product ranges for a wide variety of skin tones and skin types. These products offer rich and creamy formulas, beautiful elements and ingredients that are perfect for your skin.
It can be overwhelming trying to find a black-owned skincare brand and not knowing which ones are the best for you, so we have made the search a little easier.
We have compiled a list of black-owned brands that we want to shout out and show appreciation to, so you can support them too, and hopefully make a staple in your at-home skincare routine.
Established by Trinidad and Tobago born Aisha, she launched Chole and Chad, named after her two children. Her youngest, Chad, suffers from a skin condition, inspiring Aisha to create organic products suitable for his skin. This brand focuses on vegan-friendly formulas that are gentle on all skin types.
Chole and Chad take pride in creating safe and unique handmade products by mixing small batches made to order so that they provide the freshest formulas that are all-natural. We recommend trying their Unscented Face Serum, with ingredients like green tea oil and jojoba oil which have very hydrating properties. What's not to love?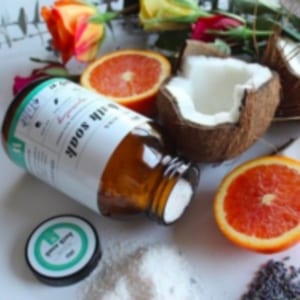 Essentials by Temi began whilst the founder Temi Shobowale was volunteering her skills in beauty at a local women's shelter. Temi created a skincare brand that concentrates on the face, body, and the soul, formulated with plant-based ingredients.
Essentials by Temi is another one of our favourite brands. They are luxury and high quality whilst still being cruelty-free as well as free of harsh chemicals. They offer a balance between your mind, body, and soul through skincare. Their Sleepy Honey Buttercream is the perfect body moisturiser – its 100% naturally sourced ingredients like Shea butter and essential oils like chamomile, coconut, and Honey.
Another reason we love this brand is that all their packaging is recyclable, reusable and environmentally friendly.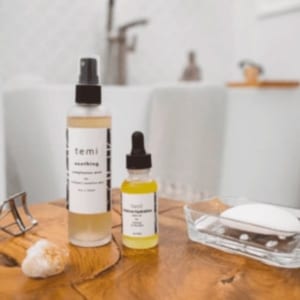 For skincare on the go, we know that LBB Skin is one of the best, founded by Londoner Nnenna Onuba. Nnenna discovered through her own experience in her busy career that there were not many skincare products for a busy on the go lifestyle, and LBB Skin was born, a UK based skincare brand.
Designed with an ethical and holistic approach for both men and women using multi-purpose formulas is another reason why LLB Skin is on our list of essentials.
All products are travel-sized – perfect to fit into hand luggage for a frequent traveller that needs that extra skincare boost. We love their A-Game stick balm – an ultra-hydrating multi-tasking cream in a stick form for fast application.
If you want to bring your A-game to your next meeting then we suggest you get your hands on this balm, 100% vegan and cruelty-free with recyclable packaging.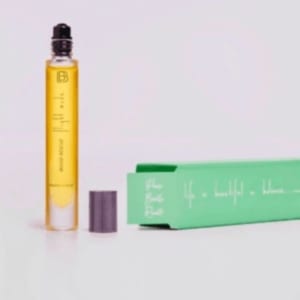 And the last on our list but by no means the least – this brand are on the well-known side of the industry. They can be found in Selfridges as part of their Inspiring Change edit.
Plant Apothecary Beauty sets the tone with amazing packaging and an even better ingredients list, using only high-quality organic oils and botanicals. They offer clean, vegan, cruelty-free beauty.
They cater to all skin types and tones to help everyone and anyone achieve beautiful, glowing skin and if that isn't enough to persuade you to try their products then our final recommendation surely will be!
A very popular product, their matcha antioxidant face mask combines white clay, matcha and green tea to soothe skin and feel refreshed.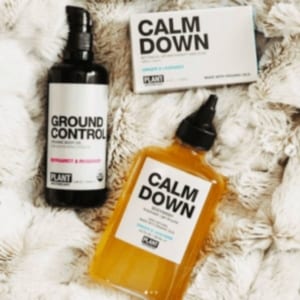 SHOP THE LIST
It can be difficult knowing which brand would best fit for your routine or skin type and skin tone, but the brands listed have been carefully chosen and recommended by our team here at Simply Clinics.
This list will be available as a resource here on our blog, whenever you're in the mood to try something new, and we all know how important skincare is, especially since we haven't been able to get our usual beauty treatments.
If you like our list of the best black-owned skincare brands as much as we did making it for you then please follow us on Instagram @simplyclinics so you can see more of our posts and stay up to date with our latest offers we are teaming up with duck and dry for our re-opening you will not want to miss it.
Written by Ruth Reid.
Back