Yes, that's right facial treatments are BACK, finally! We know you're eager to get your treatments now, but let's remind you of everything you need to know about one of our most popular facial treatments – Dermal Fillers. They are a great choice for getting youthful, plump looking skin and features, but do you actually know how they work?
No, so how do they work?
Dermal fillers work by injecting a natural substance called hyaluronic acid into the feature being treated. Hyaluronic acid is found naturally within the skin and keeps the skin firm and plump. Using hyaluronic acid, Dermal Filler fills fine lines and wrinkles, adding volume to the deep tissue whilst hydrating the skin at the same time. You can have dermal fillers in several areas of the face: lips, chin, tear ducts, nose, and forehead just to name a few.
At Simply, the type of filler would be selected by our highly skilled aesthetician and doctor, Dr Youssef Haffar. A complimentary consultation with him is advised so he can discuss the best treatment for you and how he will achieve your natural looking results.
Why do we need filler?
Dermatologists explain that as we age, we start to lose collagen and elasticity. By the age of 25 is when they suggest they start to decline by 2% each year – that is pretty young, right? They even say that by our late twenties, our body could stop producing collagen and elasticity altogether, so we must take care of our skin and a little rejuvenation helps now and again.
How long does filler last?
Depending on how your body reacts and what type of hyaluronic acid is used, fillers can last up to 18 months, but there are other factors to consider such as your age, metabolism and how the speed of which your body breaks down hyaluronic acid.
Are there side-effects to dermal fillers?
There is limited down-time with fillers, given that numbing cream is used on the treatment area. However, some small side effects are normal after having fillers. You can experience mild redness, inflammation, bruising, and tenderness – all of them being very common and nothing to worry about. These reactions happen immediately after the needle or cannula has injected the skin, but these side effects tend to be mild and usually disappear after a few days. There can also be a little discomfort whilst the filler is being injected, but this can be minimised by using numbing cream before the treatment to provide relief and to ease as much pain as possible.
What is the difference between dermal filler and Botox?
Dermal fillers use hyaluronic acid to fill the skin,  to smooth out wrinkles and promote a youthful look with the use of a natural substance. Botox blocks the signals from the nerves to the muscles, which ensures the muscle can then not contract. This causes wrinkles to relax and not crinkle.
The price of dermal fillers
Now, you've decided you want to go for dermal fillers, but you want to know how much they will set you back. This depends on how much filler you need and what area you would like to enhance. To find out our prices visit our Dermal Fillers page.
Types of Dermal Filler
Tear Trough
This type of filler is placed in the eye area, below the lower lash line. This is a popular treatment as it reduces the appearance of dark circles, bags from tiredness and ageing. As we get older the elasticity and collagen start to decrease within our skin and therefore the under-eye area can be severely affected by this as it tends to be one of the first areas to show signs of ageing.
Lip Fillers
Another extremely popular treatment where hyaluronic acid is placed carefully within the lips to augment the shape and look of the lips and mouth. This procedure adds volume, plumpness and hydration to the lips, enhancing them to your desired look. It can also help with any abnormalities like a gummy smile or a cleft lip.
Non-Surgical Rhinoplasty
Nose filler is a quick, surgery-free alternative to a surgical nose job. The filler is commonly placed in the bridge of the nose as that is the typical area for filler for this area. Nose filler can last up to one year and can help diminish the appearance of lumps and bumps, giving the nose a straighter look. For a wider nose, filler can make it appear thinner and can be also be placed in the tip of the nose to give a more turned up, button nose appearance. The size and shape of the nose can make a real difference with your front and side profile.
Cheek Filler
Dermal filler is placed around the cheekbone to add structure and correct uneven facial proportions. It gives the appearance of youthfulness to the face leaving the skin looking plump and refreshed. Filler in the cheeks gives the appearance of a higher, lifted face. In this generation,  having high cheekbones is a sought-after look. As we age, as our cheeks can tend to look sunken or drooped due to a lack of collagen, but, with filler, it can give back fullness to the face, making it look glowy and rejuvenated!
Naso-labial Filler
Hyaluronic acid is placed in the area between the nose and mouth where the smile or laugh lines would typically be. Due to the amount of pressure caused by expression, we tend to see the depth of our smile lines increase especially as we age. Dermal filler in this area fills these large expression lines, leaving you with youthful-looking skin.
Chin Filler
Non-surgical chin augmentation is where dermal filler is used to shape and resize the chin. This is a great way to balance the facial features as the size of the chin in comparison to the nose, lips, and forehead can make a dramatic transformation to the overall appearance of your face. This procedure is pain-free with minimal invasion.
All procedures are performed by our highly experienced doctor who has had over eight years experience injecting and administering dermal fillers. At Simply Clinics we strive for amazing results with every treatment. Here's some of our before and after pictures, but you can find the full extent of them here.
Nose Filler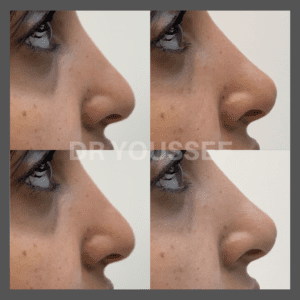 Tear Trough Filler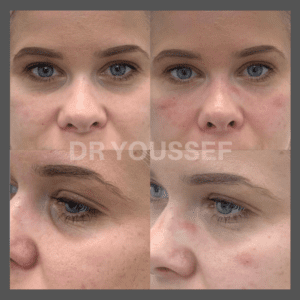 Lip Filler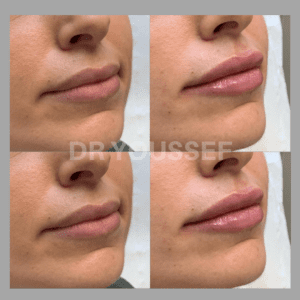 Back