How bad is the sun for our skin? Well, with summer having finally arrived, people have been taking advantage of the warm weather and making the most of the sun. This has lead to many of us wondering how bad the sun actually is for our skin. Whilst there is lots of information out there about the risk of sun damage and skin cancer, it's hard to find the right balance between being a total sun worshipper or being a hermit in the summer time due to the worries of how it may effect your skin in the long term. In this Blog Post, we're going to be telling you how you can enjoy the sun safely this summer!
What's your skin type?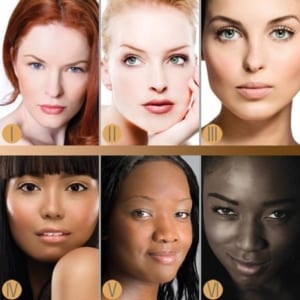 One thing that you should be aware of all year round, is your skin type. This will determine how at risk you are of sun damage, sunburn and the other nasty side effects of over exposure to the sun. The Fitzpatrick scale identifies there are five set skin types.
For example, if you are level one on the Fitzpatrick scale, you are at the highest risk from sun damage. You may typically have very light hair, light eyes and a fair complexion, which burns easily and rarely tans. If this is you, you should avoid any unnecessary exposure to the sun and aways ensure that you are wearing a high protection SPF.
For SPF, we highly recommend the Heliocare range, which we stock in our skin clinics. The brand offers different products to suit your skin needs, including mineral based, oil-free and tinted formulas. For more information about our Heliocare product offering, you can take a look at these stories.
The Effects of the Sun on Your Skin
The most serious risk associated with sun exposure, is skin cancer. Skin cancer can take form initially in a small mole or mark on the skin, which may go un noticed for a while until it spreads further. This is why it is crucial to regularly check yourself for new moles, and be aware of any unusual changes to existing moles. If you have any concerns about a mole, it is also worth getting them looked at by your GP.
It is also no surprise that over-exposure to the sun can cause premature ageing and lead to skin concerns such as pigmentation and fine lines and wrinkles.
Pigmentation
Whilst pigmentation issues such as melasma, freckles and sun spots can be very persistent and resistant to many over the counter skincare products, luckily there are a few products and treatments that we offer which are incredible and reducing pigmentation.
Firstly, microneedling is one of our most popular treatments for pigmentation. Microneedling has a regenerative effect on the skin, due to the multiple micro-channels within the skin that it creates. This leads to the skin producing new, healthy skin in order to repair itself. This new skin is younger, more supple and brighter, and you will see an improvement in your pigmentation after each session. Check out this incredible before and after below!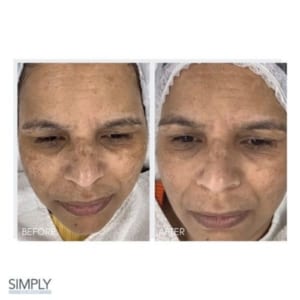 Other treatments such as chemical peels are also very effective at combatting pigmentation, as this treatment targets the deeper layers of skin. The layers that are effected by pigmentation are removed by the peel, leaving new, rejuvenated skin in its place.
Medical grade skincare ranges such as the Obagi Nu Derm system are formulated with active ingredients such as hydroquinone which help to dramatically reduce pigmentation at home. This magic ingredient works by lightening the affected area in a safe way in a matter of weeks. If you'd like to find out more about this system, you can book your complimentary consultation with one of our expert skin therapists here.
Fine Lines and Wrinkles
Fine lines and wrinkles can also become more apparent and occur earlier than usual if the skin has been damaged by the sun. This is because the UV rays within the sun encourage the formation of free radicals. Free radicals can damage the elastin fibres within the skin, leading to dry skin and fine lines. This is what is known as "oxidative stress" and may cause distress to the person experiencing it.
Microneedling is also amazing at treating the concern of fine lines and wrinkles. If you have fine lines and wrinkles as well as skin laxity, you may be interested in our Profhilo treatment.
Profhilo involves a high dosage of hyaluronic acid being injected into multiple points in the skin. This hyaluronic acid replenishes the skins moisture balance and also encourages an increase in production in collagen and elastin, which are responsible for keeping the skin youthful and supple. This before and after image shows how Profhilo was able to smooth out the fine lines and wrinkles on the neck and improve skin laxity.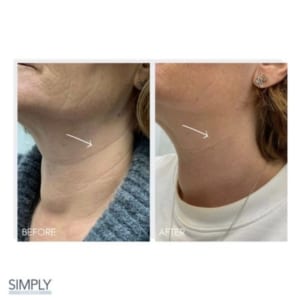 Our Top Tips For Sun and Skin Safety: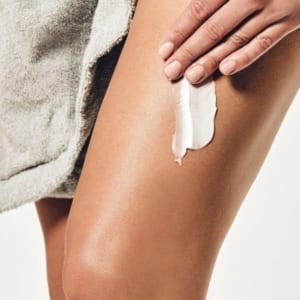 Wear an SPF everyday come rain or shine (minimum factor 30)
Avoid the mid-day sun where possible, as this is when the sun's UV rays are the strongest and most damaging
Bring a cover up with you if sunbathing to protect your skin
For more information about our treatment and product offerings at our skin clinics, follow us on Instagram @simplyclinics & @dryoussefhaffar!
Back