Acne scarring, those annoying dark spots, freckles and melasma. What do these three things have in common? Well, they are all forms of hyperpigmentation that occur on the skin. Skin concerns related to hyperpigmentation can often be difficult to treat and can take a long time to be removed from the skin. It can be very difficult to know where to start in regards to fading pigmentation marks and there are many products on the market which claim to show instant results. In this Blog Post, we're going to be sharing with you the four best ingredients and treatments to give your skin a fighting chance against hyperpigmentation.
What Is Hyperpigmentation?
Firstly, we must fully understand what the term "hyperpigmentation" refers to and also how it comes about. Hyperpigmentation is the name associated with when the colour (pigmentation) of the skin becomes darker than the surrounding skin.
A common hyperpigmentation related skin condition, is melasma. Melasma is a skin condition where there are larger patches of darker pigmentation, which often occur on areas of the face. Melasma is more prevalent in women, due to pregnancy and hormonal fluctuations being a cause for some people. It can also be caused by sun exposure and due to genetic factors. Luckily, it is a treatable skin condition however it can take some time and persistence for it to fully fade.
Those dark spots that are left after an acne breakout, freckles that come out after you've been in the sun and age spots are also types of hyperpigmentation. Whilst the majority of these hyperpigmentation issues are harmless, they can bother some people as they think it makes their skin look dull and less clear.
Despite this, if there are any areas that you are concerned about, it is always worth getting it checked out by an expert in a skin clinic. If you would like to find out more about hyperpigmentation, you can watch this video that we made over on our Instagram.
Next, we're going to be sharing with you the four skin ingredients and treatments that can help to tackle hyperpigmentation!
Hydroquinone
Hydroquinone is a skin lightening agent, which is most commonly found in cream formulas. It is used to tackle hyperpigmentation issues such as melasma, acne scarring and age spots. It is not a widely known skincare ingredient, as in the UK it is only available in prescription skincare. Hydroquinone works by decreasing the production of melanosomes and aiding the breakdown of them. Melanosomes are one of the skin compounds that are responsible for giving the skin its pigment and colour. It is a very effective ingredient at tackling skin pigmentation and results can typically be seen after around four weeks of use.
One of the best skincare systems that contains hydroquinone, is the Obagi Nu Derm system. This complete skincare system contains 4% hydroquinone to correct hyperpigmentation safely and successfully for a healthier and more even skin tone. You are able to purchase this skincare system via our skin clinic after having a consultation with one of our expert therapists.
Here is a before and after image of our client's results after using the Obagi Nu Derm system for three weeks! You can see how her skin looks younger, brighter and has a more even tone.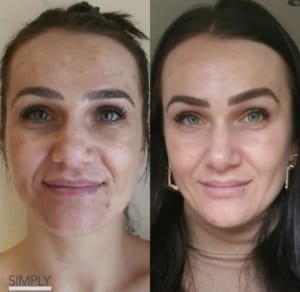 Microneedling
Microneedling is an incredible skin treatment that tackles a wide range of skin concerns, including hyperpigmentation related issues. It works by causing thousands of tiny punctures in the skin's surface, which then tricks the skin into thinking that it is injured. This triggers the skin's repair process and causes the skin to produce new, healthier skin. This new skin is younger, brighter and rich and collagen and elastin- it's also a great treatment for eradicating those pesky wrinkles under the eyes!
When microneedling is used to treat skin issues such as melasma, age spots and acne scarring, it produces amazing results. Take a look at this client's before and after image after having microneedling treatments in our skin clinic: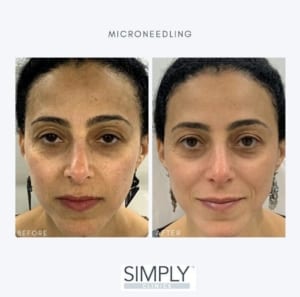 To find out more about our microneedling treatment, you can watch our treatment video on YouTube.
We have just launched a new competition where you could be in with a chance of winning three free sessions of microneedling with us. For more information about how to enter, check out this post.
Vitamin C
Vitamin C is a wonderful ingredient that is often talked about a lot on Instagram, but that's because it works! Vitamin C is a natural anti-oxidant which helps to defend the skin against harmful free radicals and has a brightening effect on the skin. When used regularly, vitamin C can diminish acne scars, fade dark spots and even out skin tone.
There are many vitamin C products on the market, however many of them are not very effective as they contain low vitamin C concentrations. This is why we recommend purchasing medical-grade skincare products, as these will contain higher concentrations of the active ingredients and therefore be more effective at treating your skin concerns. For more information about the benefits of medical-grade skincare, check out this Blog Post.
The vitamin C serums that we recommend are the Obagi Professional-C Serums. These serums come in 10%, 15% and 20% concentrations to ensure that you get the right concentration for your skin. This post explains in more detail about the different strengths that we have on offer and which one is most suitable for you. You can purchase these Obagi serums from us, after having a consultation with one of our expert skin therapists.
Chemical Peels
Chemical peels are another in-clinic skincare treatment that are great at tackling hyperpigmentation. They work by applying an acid-based substance to the skin, which exfoliates the top layer of the skin and removes the dead skin cells. This gives the skin a regenerative effect and means that the dead skin cells will be replaced by newer, healthier skin.
At Simply Clinics, we use the Obagi Blue Peel, which is composed of a unique blend of salicylic, lactic and glycolic acids to successfully rejuvenate the skin. To find out more information about how skin acids work on the skin, check out this Blog Post.
This peel is different from others, as the therapists is able to regulate the depth of the peel depending on your skin concerns and types to achieve the best results. You will typically see great results and improved skin tone and texture after one session, however we recommend having a course of treatments to see the best results.
Here's one of our clients before and after pictures after having the Obagi Blue Peel with us. You can see how the pigmentation marks, acne scars and redness and visibly reduced.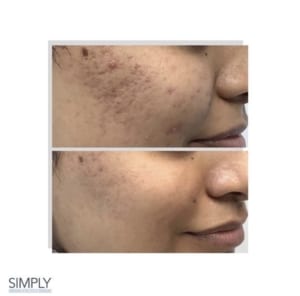 Our clinics are now open! If you'd like to book an appointment with one of our therapists at Simply Clinics or Doctor Haffar, you can do so via this link.
Make sure to enter our new competition to be in with a chance of winning three sessions of microneedling. For more information and to enter, check out this post.
Back