Dry, dull and dehydrated skin are common concerns for many of us, and ones which can really impact your skin confidence. We know that the changing of the seasons is often to blame, but could your skincare routine also be playing a part? Read on to find out more…
Dry Skin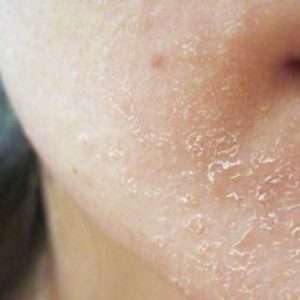 Much like oily, combination and sensitive, dry skin is one of the key skin types.  Dry skin is characterised as skin that is lacking in oil. This may be because the oil-producing glands within the skin are not working as they should be. This causes them to produce less sebum than normal skin, which can leave the skin vulnerable to external stressors, such as cold weather, pollution and the sun's UV rays.
Dry skin is often noticed due to a dry and flaky appearance. You may find that you persistently have a build up of dead skin that looks scaly and is hard to cover with makeup. In addition to this, your skin may appear inflamed, red and sore to touch, due to the lack of moisture. People who have a dry skin type are also more likely to suffer with conditions such as dermatitis and eczema, which can be hard to treat.
Dehydrated Skin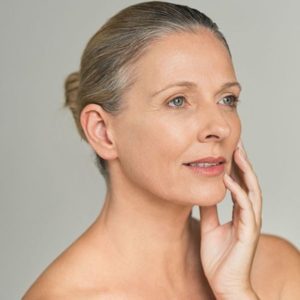 Dehydrated skin on the other hand, is a skin condition, rather than a skin type. The skin becomes dehydrated when there is a lack of water present in the skin's tissues. Unlike dry skin, you can have oily skin that is also dehydrated, which can make it difficult to combat. You may find that even though you have acne breakouts, your skin also looks dull and tight.
One of the least desirable traits of dehydrated skin, is that it is less forgiving on signs of premature ageing. As the skin lacks moisture, it can make fine lines and wrinkles more visible, as well as highlight loose skin. Similarly, though to dry skin, you may find that your skin feels itchy and irritated, due to the lack of moisture.
Treating Dry and Dehydrated Skin
Despite often being confused with one another, the two concerns need different treatments to tackle and treat them correctly.
Dry Skin Treatment
Unfortunately, as dry skin is a skin type, you are likely to always have it forever to some extent. Despite this, there are things that you can do to reduce the severity of your dry skin.
It is important to exfoliate your skin regularly, to slough away the dead skin cells. These dead skin cells can build up over time and form a barrier on the skin's surface. This can inhibit moisturisers from being absorbed by the skin and replacing the lost oil, in turn leading to further dry skin.
We usually advise against using physical exfoliators, as we find that these can irritate the skin further. Instead, we advise that you use an AHA product, such as a glycolic acid toner, to chemically exfoliate the skin. It is important to not over do this step, as it may lead to increased sensitivity- once a week should be sufficient!
In addition to this, we recommend that you switch to a richer moisturiser to use at night time and in the colder months. Using a rich moisturiser will help to replenish some of the oil within the skin and will hydrate and soothe dryness instantly. Look out for moisturisers that feature ingredients such as hyaluronic acid and ceramides, or oils such as jojoba oil and squalene, as these will provide you with a deep hydration.
We particularly love the Obagi Hydrate moisturiser.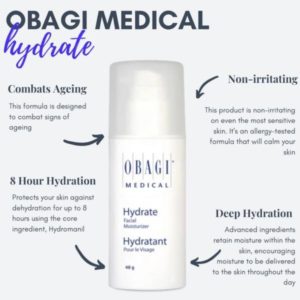 This cream contains the naturally derived ingredients of shea butter, mango butter and avocado to give you a long lasting moisturisation. To find out more about this product or to make a purchase, get in contact with us today!
Dehydrated Skin
As dehydrated skin is lacking water, one of the first points of action should be to focus on your internal health. Make sure that you are drinking enough water each day to provide your skin with the hydration that it needs. After water consumption, your skin instantly plumps up as the tissues receive moisture. This leads to fine lines and wrinkles softening, and skin overall looking more radiant.
In terms of skincare, look out for products which contain ingredients like hyaluronic acid (HA). Hyaluronic acid is a superstar in the skincare world as it is a humectant. This means that it has the primary function of drawing in and retaining water within the skin's tissues- perfect for skin that needs a boost of moisture!
Our Profhilo treatment is incredible at instantly hydrating and rejuvenating the skin. The process includes injecting a hydrating ingredient, hyaluronic acid, into the skin to add moisture to the cells. The HA integrates seamlessly into the skin and plumps, softens and hydrates within a matter of seconds. Check out this Profhilo before and after on this client's neck: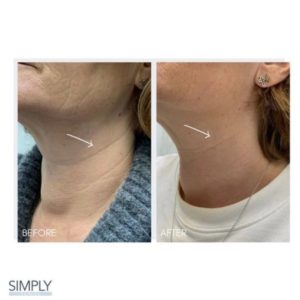 If injectable treatments aren't your thing, then our Superfacials might just be for you. Featuring patented Geneo+ technology, they aim to rejuvenate, hydrate and refresh the skin after each session. This treatment is perfect for dehydrated skin, as a blend of essential nutrients is infused into the skin, to provide hydration and to strengthen the skin's moisture barrier. Take a look at how our Superfacial has managed to soften this client's fine lines and wrinkles: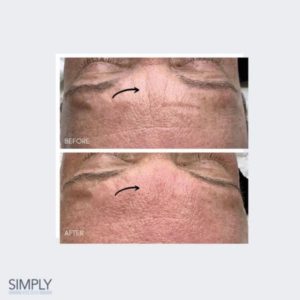 If you would like to arrange a free skin consultation with one of our expert therapists, you can do so via this page.
Make sure to follow us on Instagram @simplyclinics & @dryoussefhaffar for more skincare tips and tricks!
Back