It's common knowledge that sun protection is incredibly important and everyone needs a defence against the damage the sun can cause, especially when 90% of skin ageing is caused by UVA and UVB rays. Normally SPF is one of the last things we worry about, particularly, if we are not going abroad, but the sun can affect us at home just as much as when we're away – and don't think just because it's cloudy or because it's below 20 degrees that the sun rays won't affect your skin. There are plenty of misconceptions about how the sun can affect us, so here at Simply Clinics, we want to help solve all your SPF concerns and answer all of your questions.
So, I am sure you are wondering, what is SPF?
SPF is Sun Protection Factor – it measures how well a sunscreen will protect against UVB rays, not UVA.
UVB rays are a form of radiation that can cause sunburn and damage the skin which can contribute to skin cancer.
Our therapists recommend wearing at least SPF 30 which is perfect to defend your skin against the sun.
How does it work?
A good way to understand how SPF works for your skin is that if you burn after spending 10 minutes in the sun, then applying an SPF 15 would allow you to stay in the sun up to 15 times longer than you would without protection. Of course, this depends on your skin type, the intensity of the sunlight and the amount of sunscreen used. We here at Simply advise applying two teaspoons of sun cream every 2 hours each for the face, arms, and neck and two tablespoons for the body if you're wearing a bikini or sunbathing and you want that all-important full-body coverage. Any SPF rated from 6 – 10 is on the lower end of the spectrum and will not provide the necessary protection.
Now let's discuss UV rays; the easiest way to remember the difference is UVA = is ageing and UVB = is Burning. To put it Simply, UVB rays damage the top layer of skin whilst UVA can penetrate deeper than the skin, both can cause some serious damage and lead to skin cancer so protection against both is vital. You need a good sunscreen that will offer you the right protection and we have some excellent recommendations for you:
Heliocare
At Simply Clinic's we love Heliocare's 360 invisible spray. It provides a broad spectrum of protection and the perfect choice for full-body coverage. It's lightweight, absorbs quickly into the skin without leaving an oily finish and can be applied on both wet and dry skin and repairs the skin during prolonged sun exposure.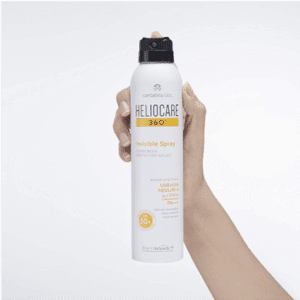 Bioderma
This Dermatologist recommended sunscreen brand is one of our all-time faves with high UVA and UVB protection and anti-blemish efficiency. If you have sensitive skin or acne this sunscreen is great for your skin type. Bioderma also offers a range of tanning oil that protects you whilst activating and prolonging your natural tan.
Bioderma Photoderm AKN Mat SPF 30, £14.50
Bioderma Photoderm Bronz SPF 30, £20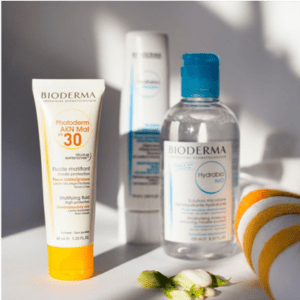 Glossier
Glossier's Invisible Shield is truly invisible on the skin, a lightweight SPF 30 water-based gel. This transparent formula works well with any skin type and performs well with makeup. Glossier is well known for their skincare and we have discussed a few of their products on our blog, check it out if you want to see more products from Glossier.
Glossier Daily Sunscreen Invisible Shield, £20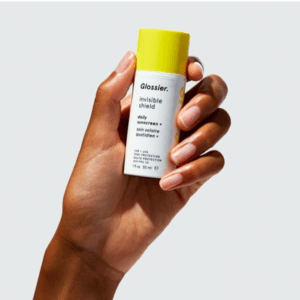 La Roche-Posay
La Roche-Posay Anthelios XL Ultra-Light Fluid, £17.50
La Roche-Posay Anthelios Invisible Kids Spray, £20
Another sun care essential brand we think you'll need is La Roche-Posay. The Anthelios XL Ultra-light Fluid it doesn't leave a white cast even at factor 50 so it works well for darker skin tones because they need protection too. La Roche-Posay also offers sun protection for kids – they have sensitive skin and need a little extra care too and their Invisible spray can help protect your little ones!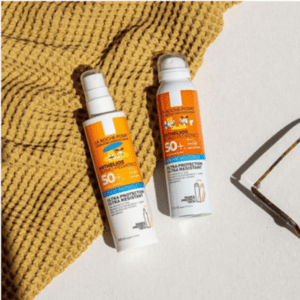 Another key to SPF is using extra SPF protection to wear under your make-up because – sadly and we've got to say it – but the SPF built into your moisturiser, make-up or BB cream isn't adequate protection because we don't wouldn't apply a thick enough layer to get the level of protection provided by sunscreen. At Simply Clinics, we know the perfect SPF to wear under your make-up:
Garnier
Affordable and effective Garnier's sensitive sun cream is not heavy or greasy with no fragrance and with a hypoallergenic formula, it's great sun protection without affecting your makeup.
Garnier Ambre Solaire Sensitive Face Sun Cream, £6.00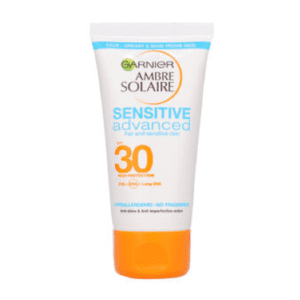 It's important to find a non-comedogenic sun cream because most protection can be pore-clogging and non-comedogenic means skincare formulated to not cause too much pore blockage and breakouts. All the sun care products we have recommended is lightweight, water-based and non-comedogenic, so we've got you covered.
Shop The List
We hope we have answered all of your SPF questions, especially now that it's summer, the borders for travel are opening and we can finally spend some time in the sun getting our tan and sunbathing!
At Simply, we want to remind all our new clients and returning ones too that if you are planning on spending some time in the sun and you've booked a Laser Hair Removal session you may have to reschedule or avoid spending a prolonged amount of time in the sun for 4-6 weeks before a session. If you want to find out more about why this needs to be avoided, please email us.
If you have any questions or unsure about if we can treat you or not, please email us on info@simplyclinics.co.uk.
Back