As we all know, beauty is in the eye of the beholder. Beauty standards change over time and differ between cultures, so it is important that people stay true to themselves. Despite this, it is a universal fact that faces which are proportionate, balanced and symmetrical are deemed as being more physically attractive.
Not everyone is blessed with perfectly symmetrical and balanced faces- why else do you think celebrities are often seen having aesthetic treatments? There is nothing wrong with asymmetry, as often your unique features are what make you special.  However, some people are unhappy with some of their facial features, to which there are non-surgical options to tweak these through the introduction of dermal fillers. In this blog post, we're going to explain to you what profile balancing actually means and the science behind it. Read on for the examples…
What is profile balancing all about?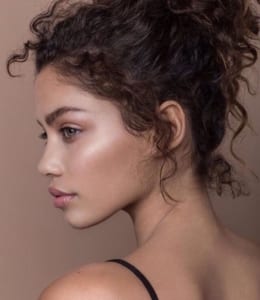 The notion of a balanced profile has been around since Ancient Greek times. Many famous historical artists, such as Da Vinci, used something called the "Golden Ratio" in their work to ensure that it was balanced. Since then, this 'Golden Ratio" has been used in aesthetic practices to determine the goal for aesthetic treatments. The ratio suggests that the face should be split into three equal portions from the hairline to the chin, in order to achieve facial balance. It is said that people who's features match this ratio more closely are seen as more conventionally attractive.
When someone has a profile balancing treatment, it is usually the lower half of the face that is being treated. The overall size and shape of the nose, lips and chin can determine whether your profile is "balanced" or not. If one of those features is out of balance, it can disrupt the whole overall facial harmony. In some cases, we often find that even treating one area can restore balance to the face. This is particularly seen in clients who perhaps have an uneven nose shape or a weaker, recessed chin. Luckily, both of these features can both easily be tweaked with a small amount of Dermal Filler. You can read up more about our different dermal filler treatments here.
We often find that our clients come in initially for a treatment such as lip fillers or cheek fillers, but then return at a later date for another procedure. Sometimes when one area is enhanced, such as the lips, you may begin to notice other areas that would benefit from an enhancement, such chin filler or cheek filler, to ensure that the profile is balanced and the facial features are supported.
Why should I have a profile balancing treatment?
It has been reported that we are viewed from the angle of our side profile 85% of the time. People are often made aware of how their facial features look from pictures that have been taken by other people. This can then lead to that person being unhappy with the way that a certain facial feature looks. Profile balancing is all about providing harmony between these features.
At Simply Clinics, our profile balancing treatments offer a non-invasive and more affordable alternative to surgical treatments, such as a rhinoplasty or a chin implant- the results can be just as life changing as the surgical options too! The results from dermal fillers can be seen straight away, with little to no downtime and minimal discomfort. Whilst we see the results lasting around 12 months, they are not permanent unlike the surgical options. This means that the filler can be removed or tweaked over time if needed.
There are some aesthetic practitioners who offer "package" deals for profile balancing treatments. We do not offer these packages at our skin care clinic, as we believe that every individual client is different. We treat our clients with their own, unique treatment plan in order to achieve the best results for them. When you come for a consultation with Dr. Youssef Haffar, he will listen to your concerns and
Show me some results!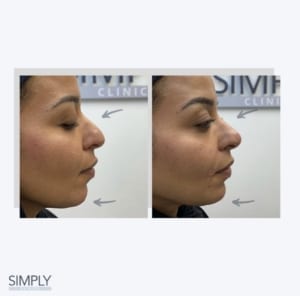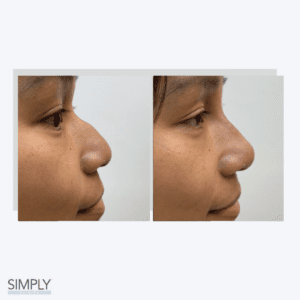 Here are two incredible client before and after pictures!
You can see in the first picture that the client has had dermal filler in both the nose and chin in order to provide this beautiful result. By placing a small amount of filler in the chin, it has helped to elongate the face and provide more facial structure.
The client in the second photo has only had dermal filler placed into the nose (Non-Surgical Rhinoplasty), which has dramatically changed her side profile. The dermal filler here has helped to smooth out the small bump, has rounded the tip and has given the appearance of a smaller, thinner nose.
If you are interested in our tear trough treatment to combat dark under eyes, we now offer this in all of our clinics, including the Southgate and Shepherd's Bush clinics. We have some incredible transformations from this under eye filler treatment which you can see here.
You can now make a provisional booking for treatments from Mid March via this page. Make sure to follow us on Instagram too @simplyclinics & @dryoussefhaffar for more transformations like the ones above!
Back