If you're active on social media and interested in the beauty and aesthetics industry, you must have seen this new aesthetics trend: Russian lips. Russian Lip Filler is the latest technique to be introduced to the game, that provides an alternative look and technique to lip filler. But is it worth having done?
In this post, we uncover the Russian Lip Filler technique and the results that come with it.
The Russian Lips Look
Russian Lips generally look very different to the most familiar lip filler aesthetic that has stormed the UK over the years. This new trend has introduced a brand new shape to the lips, providing a flatter, wider look to match the one supported naturally by Russian women. The trend began due to the desire for lips that are larger in volume and plumpness, without the worry of filler migration or the 'duck lips' and 'trout pout' look that many want to avoid when having lip filler. Russian Lips derive from the 'Russian Doll', where they form a heart shape in the centre with a flatter, higher appearance.
However this look isn't for everyone, and although this technique does avoid filler migration, it doesn't necessarily look more natural than the more common lip filler technique.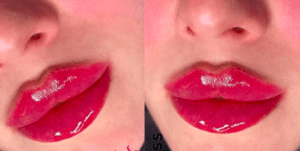 Russian Lip Technique
The Russian Lip technique differs completely when it comes to the procedure, and this is something to consider when it comes to booking your appointment. Price and duration of the treatment are two of the main factors to contemplate.
The technique involves injecting tiny droplets of dermal filler into the lip, mainly focused around the centre to achieve the heart-shaped look. Filler is injected vertically into multiple injection points and dragged upward from the base to the top of the lip, rather than horizontally with traditional lip augmentation. Russian Lips are larger in height rather than volume, which requires a longer treatment time due to an increase of product needed to achieve the desired look.
Traditionally, lip filler treatment can take any time between 15-30 minutes. However due to the fact that more filler is used, more time is taken to inject which can increase treatment time to 30-45 minutes. If pain is a worry of yours when it comes to treatment, we would advise the more traditional lip filler treatment. You can find more evidence of traditional lip filler results over on Dr Haffar's Instagram here.
Traditional Lip Augmentation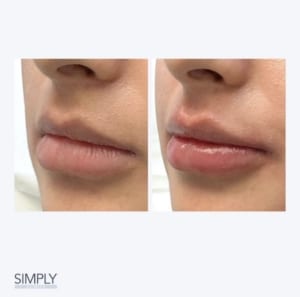 If you're considering Russian Lip filler, you will also need to consider the desired look you're wishing to achieve. Simply Clinics specialise in natural looking, undetectable results, achieved through the more traditional method of lip filler. Due to the size and shape of Russian Lips, your results may not appear as natural or undetectable as traditional lip augmentation. 
Additionally, it's important to consider your previous treatments, and whether the desire for the Russian Lip look will be long-lasting. If you've previously had lip filler, you will need to have all existing filler dissolved before you have the Russian Lip procedure. This is because you need to ensure no filler is left within the border of the lips.
How much are Russian Lips?
Prices for dermal filler and lip augmentation vary depending on clinic and location, but the Russian Lip technique can actually become more expensive than the usual lip filler treatment offered. To achieve the flat, heightened look of the Russian Lips, more dermal filler is needed, which can therefore bump up the price.
To find out more about lip filler prices, visit us here. 
How long do they last?
Lip filler lasts between 9-12 months, however regular top-ups are advised to ensure your desired shape is kept. To enquire for more information about lip filler and our other aesthetic services, please get in touch!
Our skin clinics across Chelsea, Hammersmith, Southgate and Uxbridge also offer many other beauty and aesthetic services, such as laser hair removal treatments, microneedling, Profhilo and Aqualyx. 
Back