When thinking about skin acids, it may conjure up ideas of a mad scientist mixing up potions in a lab. Or, in fact it may even take you back to high-school chemistry lessons (I don't know which is worse!). Whilst skin acids aren't as intimidating as they may sound, there are a few things you need to be aware of before you start using them. This is to avoid any situations where irritation may occur and will enable you to get the best results.
When used correctly, acids can help to transform your skin and treat a multitude of different skin concerns. They can drastically improve the overall texture and tone of the skin, so are useful little potions to have. In this Blog Post, we're going to be explaining a bit more about skin acids and will teach you how to correctly incorporate them into your routine…
What are skin acids?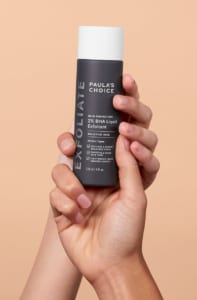 Firstly, we need to explain what the term "skin acids" actually means. As we learnt in school, any substance that is below 7 on the PH scale is acidic. When placed onto the skin, acids can help to encourage skin exfoliation, rejuvenation and boost cell-turnover. The most commonly associated skin acids with exfoliation properties are AHA's and BHA's.
Alpha-Hydroxy Acids (AHA's) are water-soluble acids which work mainly on the skin's surface to remove dead skin cells and increase skin-cell turnover. This makes them a perfect addition for people who are suffering with dry and dull skin. Commonly used AHA's include Glycolic Acid and Lactic Acid.
Contrastingly, Beta-Hydroxy Acids (BHA's) are oil-soluble molecules and are able to penetrate deeper into the skin's dermis. Due to their oil-soluble nature, they are able to remove and dissolve the bonds that hold together dead skin cells and excess sebum deep into the skin's pores, making them a great option for treating acne and congested skin. The most commonly used BHA is Salicylic Acid, which features in many acne products and treatments.
AHA's and BHA's can also be used together in order to treat a combination of different skin concerns in one treatment. You can find out more info on acids in our other blog post, here.
Hyaluronic Acid is another skin acid which is widely talked about in the skincare world. Whilst it has "acid" in its name, it is a humectant and serves to draw and retain moisturise in the skin, rather than exfoliating. It is an amazing ingredient which can help to improve the skin's elasticity, reduce the appearance of fine lines and wrinkles and plump up dry and dull skin.
How do I use them?

Choosing the right product
There are many products on the market which claim to have acids within them, such as cleansers, moisturisers, serums etc. We recommend purchasing them either in serum form or in liquid form to be used as a treatment after cleansing and just using a normal cleanser as part of your routine. An exception to this, would be if you are treating a concern such as acne. In this instance, it is beneficial to use an acid, such as Salicylic Acid within your cleanser. OBAGI have a great range for acne-prone skin called Clenziderm which contains medical-grade levels of Salicylic Acid. You can find out more about the range here.
Patch test
Before incorporating a new skincare product into your routine, it is always worth patch testing it first to prevent skin irritation. Simply take the acid and place a small amount on the inside of your elbow. Wait and see if there is any reaction after 48 hours and if so, do not use on the face.
Application
It is up to you however you feel most comfortable applying your skin acids. If they are in liquid form, you can either apply it to the skin with a cotton pad or with clean hands. Skin acids can be used alongside other products, such as Retinol and Vitamin C, however make sure to keep an eye on your skin to monitor any signs of irritation. If there are any signs of irritation, reduce the frequency of use. Contrary to popular belief, acids can also be used on the eye area, around the orbital bone. This can help to reduce fine lines and wrinkles in this area. If using here, be careful not to get any product too close to the eye or in the eye itself.
Frequency
Whilst it may be tempting to go full whammy with using skin acids, we recommend building up the frequency of your application gradually over time. This is to allow time for your skin to get used to them. For example, first start by using them either once per week or once per fortnight. Once your skin has adjusted to the product, you can increase your frequency up to once or twice per day, depending on your skin's needs.
SPF always!
Even though it is important to wear SPF everyday regardless, it is especially important if you are using skin acids. Some skin acids, especially those with exfoliating properties, will make your skin more sensitive to UV rays. It is best to choose an SPF that offer factor 50 broad spectrum protection to increase your defence against sun damage.
In-clinic treatments
Whilst at home skincare can help to improve the skin, when used in combination with in-clinic treatments, it can create amazing skin transformations. We offer Chemical Peel treatments which target a range of different skin concerns, such as pigmentation, congested skin and fine lines and wrinkles. We offer two different peels to choose from: OBAGI Blue Peel and a Mandelic Acid Peel using products from Juliette Armand. Both of these peels feature different skin acids to exfoliate and rejuvenate the skin.
Have you heard our latest offer? Receive £20 credit towards any treatment when you purchase 3 sessions of 3D Lipo. Hurry though- this offer ends Friday 19th March!
Make sure to follow us on Instagram @simplyclinics & @dryoussefhaffar for more information about the offer above and for any reopening news.
Back