I am sure you are wondering, what is maskne? It's a word that's being thrown around quite a lot these days and caused due to the one thing that's on the forefront of everyone's minds; Coronavirus.
Maskne is acne caused by wearing a face mask or covering, and we want to know how do you avoid this, especially when wearing a mask has become part of our everyday routine? Well, we have all the answers to your questions. In this article, we will guide you on how to avoid breakouts and how to look after your skin when wearing a face mask.
We have all had to wear a face mask at some point and might have to for the foreseeable future, on a daily basis or occasionally when on public transport or shopping. So let's say NO to maskne and worrying about what impact it will have and how to best look after your skin during this time.
The cause of Maskne
The cause of mask acne is friction that the mask creates on your skin, irritating the skin's surface and also causing your pores to become blocked. This is then mixed with the moisture and bacteria under your mask, which creates the perfect cocktail for acne to form. Add makeup to that and it can become a real skin nightmare.
It's now become mandatory to wear a face mask or covering in most public settings. If you have to wear a mask regularly, then one option we would recommend is to wear a mask with skin-friendly material like Silk, as it's much kinder to the skin with less friction and naturally hypo-allergenic, so it's ideal for sensitive skin or anyone with allergies. Silk, unlike cotton, nylon and other fabrics will adjust to your body temperature and won't consume all your skins natural oils and moisture, keeping it super soft and nourished.
If the idea of potentially spending too much for a reusable mask is not an option, then we've got alternative ways to save your skin.
How to Prevent Maskne
Always cleanse the skin before and after wearing your mask.
Moisture is key – make sure you are moisturising your skin frequently and do not forget your lips!
Remember SPF, sun protection still counts as not all your face is covered and those UVA/UVB rays may still penetrate through your mask.
Wash your mask or replace it daily.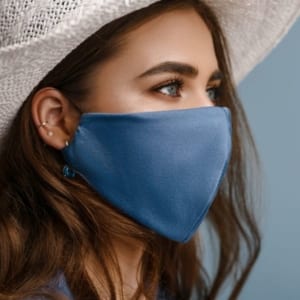 Although there are things we can do to help prevent maskne, cleansing your face with proper skincare is key. Good skincare is crucial and cleansing the skin minimises clogged pores and stops inflammation, blackheads, and a dull, unbalanced complexion. By exfoliating dead skin cells and excess oil, we can rid the skin of bacteria, leaving it clean, hydrated, and glowing. Depending on your skin type you need the right kind of cleanser. We suggest something fragrance-free, so you don't have pesky alcohol drying out your skin.
Oily/acne-prone skin needs a foaming cleanser so it does not add extra oil, whereas dry/sensitive skin needs a more cream-based cleanser to add moisture back into the skin and encourage skin repair and protection. Aim to cleanse morning and evening, so you are not over-cleansing your skin, yet are ensuring it's free of bacteria.
Avoid over-use of physical exfoliants and scrubs as they may cause further damage and cuts on the skin which will can allow bacteria in.
Minimal makeup when wearing a mask would help prevent maskne, I know it'll be hard to part ways from our makeup bag, but giving bold makeup a break and compromising for a tinted moisturiser can a do a world good for your skin.
Of course, skin treatments can also help defend against maskne. At Simply Clinics, we offer treatments like microneedling which creates tiny channels in the skin that allows the infusion of products that hydrate and cleanse your skin. This treatment would be really effective for skin that has been affected by wearing a mask. We also offer microdermabrasion, a skin treatment that can improve the appearance of blackheads, acne and large pores by deeply exfoliating your skin.
If you want help to fight against maskne then book an appointment online or give us a call. We also have PPE measures in place to keep you safe and comfortable whilst receiving your treatments.
Follow us on Instagram here for more skincare tips & guides!
Written by Ruth Reid
Edited Laurie Harris
Back