What's Aqualyx, and do you need it?
Have you been struggling with reducing fat in certain areas of your body? Aqualyx could be the solution you have been waiting for. This revolutionary procedure is the latest non-surgical treatment in the aesthetics industry that tackles large and stubborn areas of fat.  
Our bodies have fat cells that cannot be removed easily once they've been stored within fatty tissue – these are known to be stubborn fat areas. Aqualyx works by completely dissolving localised fat using injections and, in some instances, in combination with an external ultrasound. 
The treatment uses the process called 'cavitational adipoctolysis'. The injectable substance used within Aqualyx dissolves fat cells, turning them into a soluble substance that can then be flushed out of the body over time. 
Some of us looking to reduce fat will be working out regularly and eating healthy, but in some cases, this is not enough to reduce the fat in stubborn areas of our body. Whether it is your stomach area or fat around your arms, face or legs, Aqualyx can provide extra help!
Aqualyx can be performed on the face and body. Some of the typical treatment areas include Double Chin, Arms, Love Handles, Bingo Wings, Inner and Outer Thighs, Waist, Underarms and Armpits, Glutes/Hips. 
Do I need Aqualyx treatment? 
Many of us are not happy with certain body parts that we would wish to be smaller or more toned. But even after adopting a healthier lifestyle and regular exercise, some of us will know that this is not enough to achieve our desired look. 
Aqualyx is a cheaper and less painful alternative to surgical liposuction. The results from the treatments include the complete dissolving of fat cells which means the results are permanent. However, it is advised that you maintain a healthy lifestyle influencing regular exercise and a balanced diet to get longer-lasting results. 
Results will be noticeable after just one session, but we encourage our clients to have at least two to five sessions of the treatment to get the desired results. If you are unsure of the number of sessions, we will advise depending on the amount of localised fat you have and the results you are after. 
Here Simply Clinics, our sessions start from £300 (1 area). We also offer packages for 1 or 2 areas for 2 or 3 sessions.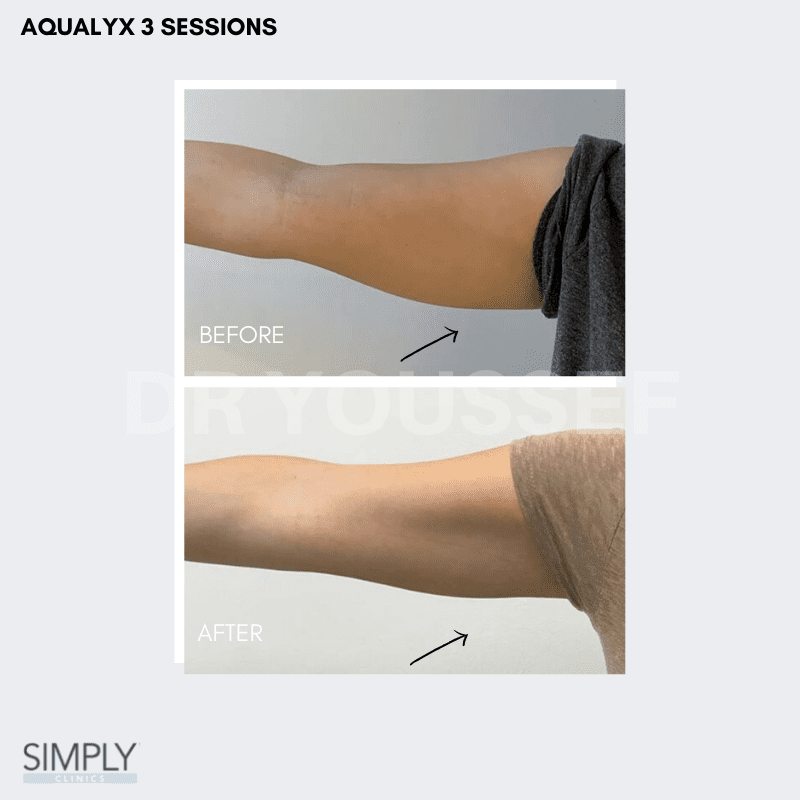 How can I book? 
You can book in for your consultation and treatment here. Visit our website for more information on this treatment, or call us on 020 85352 3523 to speak to one of our lovely clinic members.  
Back