Laser hair removal has long been coveted as the ultimate way to get rid of unwanted hair. Despite this, as with any beauty treatment, there is a lot of misinformation surrounding it. Fortunately, we are here to bust these myths, and provide you with the pure, hard facts! Hopefully this will then ensure that you are well informed and comfortable prior to starting your laser hair removal treatment with us…
Laser Hair Removal Info
Laser hair removal has come along way since it was first available in the 1990's… no longer is the treatment associated with bulky looking machines, painful treatments and only suitable for a select few candidates.
The treatment uses energy from specific wavelengths in the treatment area, which precisely target the hair follicles within the skin. This then over time alters the hair growth cycle completely, and ends up causing the hair follicle to be destroyed, leading to a reduction in total hair growth… goodbye annoying razors!
There are many different clinics that offer laser hair removal, all who use different systems. At Simply Clinics, we use the Lumenis LightSheer Duet and Infinity systems. These machines feature diode laser technology, which is seen as the best in the laser hair removal world, due to its efficacy of results and also the fact that it can be used on a wider range of skin tones than other systems.
Laser Hair Removal Myth #1: It Is Only Suitable For People With Fair Skin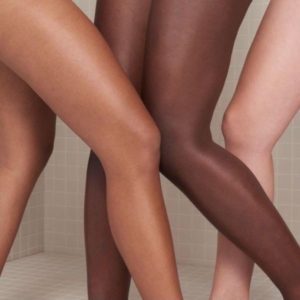 Fact: This is also wrong! Whilst there are some systems on the market which only work on fairer complexions, the Lumenis models that we use feature diode laser technology. This means that they are able to be used on virtually every skin tone (as long as the colour of the hair is darker than the skin).
Diode laser works using a higher frequency than other technology. This ensures that the laser is able to successfully target the hair follicle, regardless of skin tone, making it a very inclusive treatment.
This is another reason why we offer and require all of our clients to have a patch test, before you can book in for future sessions. This ensures that the laser will work successfully on your skin, before you commit to a course.
Myth #2: It's Super Painful
Fact: This is one of the biggest misconceptions about laser hair removal, and one which often puts people off trying the treatment!
Whilst we cannot guarantee a completely pain-free treatment, it is generally a very comfortable treatment, with minimal discomfort felt. Most laser hair removal clients describe it as feeling a sudden burst of warmth in the area, which quickly subsides.
In addition to this, our machines have patented suction technology. This allows for the treatment to be much more comfortable than many other machines on the market! Check out this YouTube video, where our Lead Therapist Ellie talks you through how we perform our laser hair removal treatment at Simply.
Myth #3: "I Only Need a Few Sessions To See Results"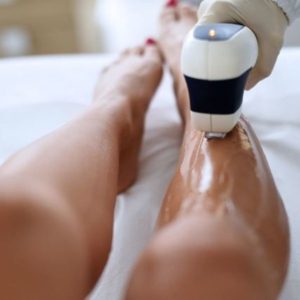 Fact: Wrong! Whilst we do find that most clients see a significant reduction in hair growth after each session, a full course of between 6-10 sessions is needed in order to achieve results that will last. This is because different hairs on the body are going through different stages of the hair cycle. If you stop after only a few sessions, you will find that the hair follicles have not been targeted fully, so therefore will regrow just as they were before.
Myth #4 It Takes Ages To Treat
Fact: We admit, laser hair removal isn't an overnight process. It is something that you need to be consistent with and continue doing to see the best results. Despite this, it is a lot quicker to complete than many people think.
The average recommended course is between 6-10 sessions, depending on the individual. Each session requires a 4-6 week gap between, meaning that you could complete your laser hair removal journey in less than 12 months!
After your course is completed, we often find that most clients see around a 80% reduction in total hair growth.
Myth #5 It Is Crazy Expensive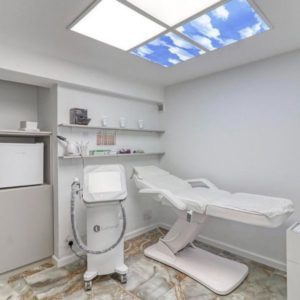 Fact: This may be the case in some places, but not in our doctor lead skin clinics…
Whilst we pride ourselves on our high quality service, we also are very proud of our affordable and accessible price points.
We are currently running an offer, whereby women can receive 50% off and men can receive 25% off their laser hair sessions, with prices starting as low as £35!
Many clinics charge well in excess of this figure, so for London prices, our treatments are very competitively priced. In addition to this, if you count up how much you spend on razors and waxing sessions each year, it may even work out cheaper in the long run.
P.S. we may have another offer coming soon- keep your eyes peeled on our socials!
Make sure to follow us over at @simplyclinics & @dryoussefhaffar for all of the latest Simply news.
Back