With the hot weather fast approaching, the thought of wearing summer clothes can be daunting. The hot weather means less clothing, so naturally more skin on show. Over the last few months, we have seen a rise in demand for our body contouring treatments, with more clinics adding similar treatments to their service lists each day. Some people naturally hold onto stubborn fat and cellulite in areas even though they eat healthily and work out regularly- sometimes we just need a helping hand from an in-clinic treatment to tone up. Luckily, we have a new treatment at the clinic, Aqualyx fat dissolving injections. This is offered alongside our original body contouring treatment, 3D Lipo.
These two treatments offer new technology to help you shift stubborn fat, tighten skin and reduce cellulite, in a non-surgical and cost-effective way. The question remains… which one shall I choose?
Fat Dissolving Injections: Aqualyx
Aqualyx is one of the newest treatments that we're offering at the clinics. It provides a non-surgical alternative to liposuction to target large areas of stubborn fat, similarly to our 3D Lipo treatment, however Aqualyx uses a different method.
The treatment consists of a series of injections into the target area. These injections contain a fat-dissolving agent made from deoxycholic acid. Over a short period of time after your treatment, this acid will break down and dissolve the fat cells, which will hen be removed by the body's natural elimination process. Aqualyx is a quick, safe, and sterile procedure and is carried out in-clinic by Doctor Haffar who has over eight years of experience in the aesthetics industry.
Aqualyx can be used to treat stubborn fat in the following areas: Double Chin, Love Handles, Bingo Wings, Inner & Outer Thighs, Waist, Underarms & Armpits, Glutes/Hips.
The results are permanent as long as you maintain a healthy lifestyle. After the treatment, you will usually see noticeable results after each session. Despite this, we recommend having a few sessions in order to achieve the desired results. Your tailored treatment plan will be discussed during a consultation with Doctor Haffar.
To find out more about Aqualyx, you can check out this Blog Post or visit our treatment page here for more info.
Fat freezing, cavitation & dermology: 3D Lipo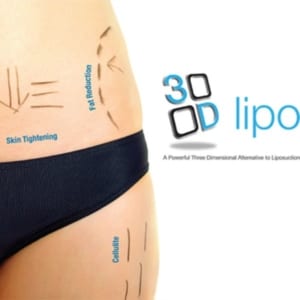 3D Lipo has been a long-standing service at Simply Clinics and for good reason: the results are incredible!
Whilst 3D Lipo also offers a non-surgical alternative to liposuction, similarly to Aqualyx, it is also used for two other purposes. As well as targeting areas of excess fat, is it also able to treat cellulite and to firm areas of loose skin.
This treatment offers you multiple different ways to treat your concerns. You can select an individual treatment or a combination of treatments in conjunction to help you achieve your goals. The 3D Lipo machine has four different methods which each target different concerns:
Cryolipolysis– This method works to reduce excess fat using extreme cold (fat freezing)
Cavitation– This method uses low frequency ultrasound to permanent destroy fat cells
Dermology– This application increases blood supply which tightens the skin and improves the appearance of cellulite
Radiofrequency– Using radiofrequency energy, this method works to increase collagen production within the skin to tighten it and improve the appearance of cellulite.
Our 3D Lipo treatment provides permanent results, as long as you maintain a healthy lifestyle. Most clients see results after just a couple of sessions, however we recommend having a full course in order to achieved the desired results and to address your concerns.
3D Lipo is carried out in our skin care clinics by one of our expert therapists. During your consultation,  you will receive a bespoke treatment plan to help you achieve the best results.
Check out our Instagram Guide on 3D Lipo here.
How Much Are The Treatments?
The prices for Aqualyx per session are as follows:
1 Area Aqualyx- £300
2 Areas Aqualyx- £550
The prices for 3D Lipo are as follows:
1 session- from £75
3 sessions- from £200
Results here show how Aqualyx has been used to target stubborn fat on the stomach: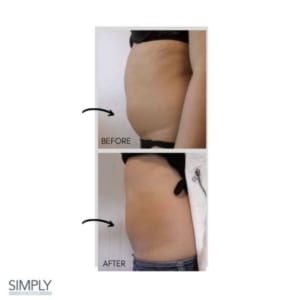 Look at this amazing transformation! Aqualyx has been used here to reduce excess fat on the back.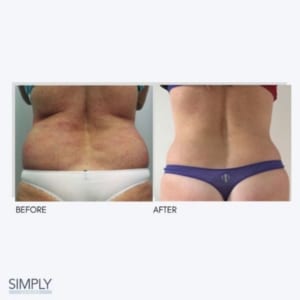 After just two sessions of radio frequency, this client's skin looks tighter and firmer.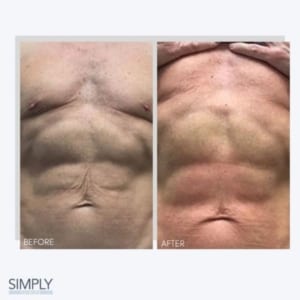 Wow! Look at this incredible transformation after just one session of cryolipolysis.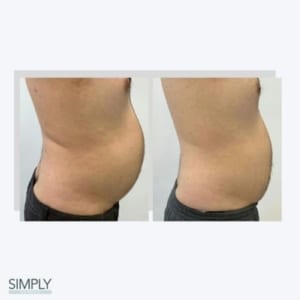 If you'd like to book a consultation for Aqualyx or 3D Lipo in our skin clinic, you can do so via this form.
Make sure to follow us over on Instagram @simplyclinics & @dryoussefhaffar for more incredible transformations!
Back